The musical legacy of John Hartford returns with The John Hartford Fiddle Tune Project: The Tour, a show consisting of the previously unheard compositions he left behind, performed by musicians from the Grammy-nominated album, The John Hartford Fiddle Tune Project Vol. 1.
Megan Lynch Chowning is a seven-time national fiddle champion and respected Nashville musician and educator. She spent four years touring with legendary country music artists Pam Tillis and Lorrie Morgan, judged the National Fiddle Championships three times, and is the co-director of the IBMA-award-winning Nashville Acoustic Camps.

IBMA Mandolin Player of the Year nominee Tristan Scroggins joined Megan to record "John Rice," "Just Enough Room to Turn Around," and "Running Board Waltz" for the Fiddle Tune Project. Scroggins is well-known for his work with his father, Jeff Scroggins, and since moving to Nashville has played at many top venues including the Ryman Auditorium with acts such as Molly Tuttle, Missy Raines, and Dailey & Vincent.
Joining them onstage is the legendary Adam Hurt. Deemed a "banjo virtuoso" by the Washington Post, Adam Hurt has fused several traditional old-time idioms to create his own elegantly innovative clawhammer banjo style. A respected performer and teacher of traditional music, Adam has played at the Kennedy Center and since moving to the South in 2002, has placed in or won most of the major old-time banjo competitions, including three first-place finishes at Clifftop.
One of the most respected musicians in Nashville history, John Hartford is well known for his songwriting, having been honored with four career Grammy Awards, including two for his 1967 recording of "Gentle on My Mind." Still, few knew of his passion and academic approach toward the study of fiddle music in the later years of his life. After Hartford's death in 2001, his family discovered over two thousand original and unrecorded fiddle tunes that he had been keeping in file cabinets under his desk. In time, an expansive idea of a project honoring his passion for the instrument began to take shape – first as a book, then as an album.
With decades of performance experience and reputations as stewards of tradition, Scroggins, Lynch Chowning, and Hurt bring this unexplored part of John Hartford's legacy to life. Scroggins spent years working for the John Hartford Office helping to archive the last of John's writing and as such became familiar with John's work. Megan Lynch Chowning, who helped copy edit the accompanying fiddle tune book, is known for her expert knowledge of fiddle tunes and their histories much in the same way John was through his extensive note taking and interviews with masters. Though they never met, John surely would have been in awe of Adam Hurt who is one of the preeminent banjo players in the world. As both a banjo and fiddle player, John and Adam are connected by their deep passion for both preserving and innovating American traditional music. In that same paradoxical way, these three use their combined talent to present a show that is both fresh and familiar, historical and never before heard, and a way to relive the "Goodle Days."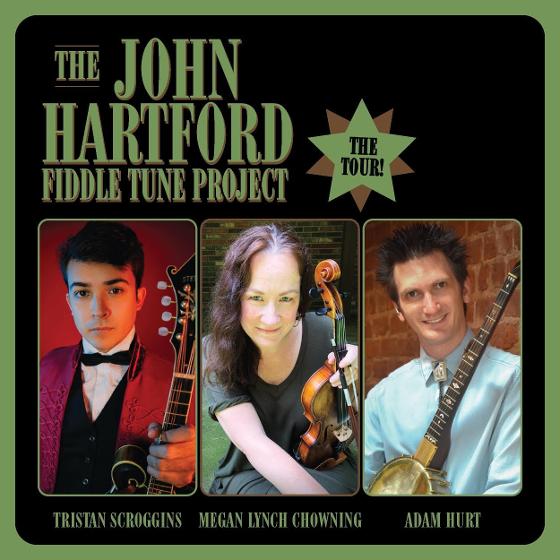 © Copyright The John Hartford Fiddle Tune Project: The Tour